The UMRAE is a joint research unit resulting from the grouping on 01/2018 of researchers in acoustics from Cerema-Est (Centre d'Etudes et d'expertise sur les Risques, l'Environnement, la Mobilité et l'Aménagement, labelled « Tremplin Carnot » in 2016 under the name 'Cerema Effi-Sciences') and Ifsttar (Institut Français des Sciences et Technologies des Transports, de l'Aménagement et des Réseaux).
UMRAE researchers have been developing expertise and research for over 30 years in the fields of environmental noise (metrology, prediction, source characterization). The unit specialises in transport and industrial noise, noise reducing devices, acoustic materials, building acoustics and bioacoustics. UMRAE contributed to several French and European projects in these fields (QUIESST, CNOSSOS, Harmonoise, N4C, ROSANNE, etc.). It has also been involved in wind turbine noise for several years through researches or expertises (AFNOR, ANSES), and technical assistance with the Ministry of Ecological and Solidarity Transition.
The LMFA is a joint unit of the CNRS (UMR 5509). Its research activities are organized around four research groups: Acoustics, Complex Fluids and Transfer, Turbomachinery and Turbulence and Stability.
The Centre Acoustique de l'Ecole Centrale de Lyon has about 20 permanent staff and the same number of doctoral and post-doctoral students. It is one of the main components of Labex CELYA (Centre Lyonnais d'Acoustique, 2011-2019). Main research interests are noise generation by flow (bearing surfaces, jets, and sound propagation in inhomogeneous environments).
The Acoustics Centre has important experimental facilities, including two open-vein wind tunnels opening into an anechoic room. Numerous industrial collaborations on the theme of airfoils and blowers have been carried out in recent years (SNECMA, Airbus, Valeo, CETIAT).
For 70 years, the General Technical Division has been the technical reference for all EDF Group sites. EDF DTG's acoustic engineers provide technical support for noise control to power plant operators. During the study phase of the installation of a new power plant, EDF DTG's team carries out predictive impact studies and estimates noise and emergence levels using the open source sound propagation code developed by EDF.
EDF DTG has strong experience in carrying out long-term measurement campaigns for all EDF Group generation sites, including wind farms. These measurements provide data for scientific evaluation and, if necessary, sound insulation recommendations.
SUPPORT
Pôle Mer Bretagne Atlantique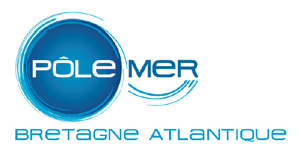 The Brittany-Atlantic Sea Cluster (PMBA) is a competitiveness cluster whose primary purpose is to propose a new industrial policy. Competitiveness clusters aim to promote the development of collaborative research and development projects, they support the growth of their member companies, in particular by marketing new products, services or processes resulting from research work.
The PMBA's expertise is organized around six main areas, including one on marine energy and mining resources. In particular, the latter integrates renewable marine energies from hydro turbines to floating wind turbines and wave energy recovery. (Source: PMBA website).
The PMBA provides moral support to the project, without financial support.